INSTITUTIONAL UNIVERSITY COOPERATION
Joint Steering Committee Meeting of VLIR-IUCprogramme from August 27-28, 2015
Published on

09 November 2015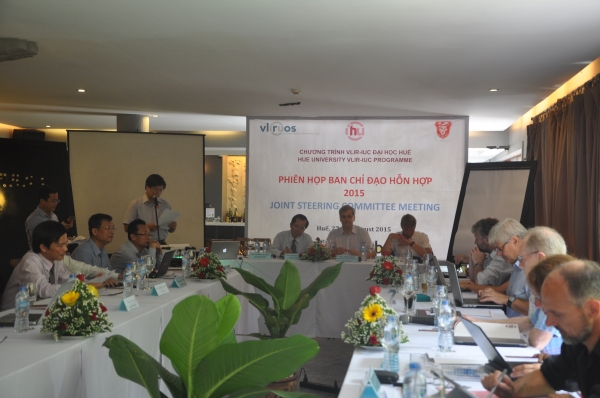 Hue University hosted the Joint Steering Committee Meeting in the framework of VLIR-IUCprogramme from August 27-28, 2015.
On Hue University side, there were the Local Programme Coordinator, Project manager, Project leaders, Deputy leaders and secretaries. On Flemish side, the Programme Coordinator, Project leaders, Project facilitator and other members were present at the meeting.
The Joint Steering Committee was launched with the opening remarks by Prof. Nguyen Van Toan, Local Programme Coordinator and Prof. Peter Bossier, Flemish Programme Coordinator. The aim of the Steering Committee Meeting was to review programme activities implemented in the year 2014 and its progress in the year 2015. Also, the Activity Plan for the year 2016 was the main focus of the meeting.
For further discussion, the attendees were involved in such issues as seeking the collaboration with other programs (VLIR Network program, Erasmus+, 911, etc.), plans for visits, financial management and especially the Belgo-Vietnam Rectors' Mission in October 2015.
The meeting closed in the afternoon of August 28, 2015.